ARDBEG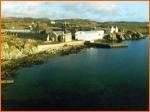 islay

Pronounced : ard-beg.
Built : 1815.
Current Owner : Glenmorangie.
Prod Cap : 1,000,000 Litres.
John MacDougall founded Ardbeg distillery in 1815, on a favoured landing spot for smugglers and illicit distillers through out the 18th century. It sits in a rocky cove on the remote south-east shore of Islay, where an abundance of fertile soil, peat bogs and an unlimited supply of soft peaty water from the Loch Uigeadail can be found.
The distillery was mothballed in the early 1980's but towards the end of the decade began producing again, although in small quantities. Glenmorangie took control in 1997 and dramatically re-invented the Ardbeg range, including turning the Old Kiln into a shop and cafe.