ARRAN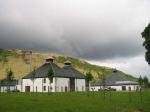 arran

Light, sweet, unpeated and often with appley notes.
A great gift whisky.
The island of Arran was once famous for its whisky, however for over 150 years there was no legal distillery. This changed in 1995, when Scotland's second newest distillery opened at Lochranza, and was commisioned by the current distillery manager Gordon Mitchell. Interestingly, the charming Mr Mitchell was involved at the beginning of Cooley/Connemara. Does this make him the only living man to have commissioned two malt distilleries? The quality of the Arran whisky shows he got it right (again!), with stocks developing well.