ABERFELDY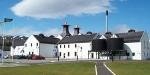 highland

Pronounced : aber-fel-dee.
Built : 1898.
Current Owner : Bacardi.
Prod Cap : 1,800,000 Litres.
 
John Dewar & Sons the Perth based Blenders built the Distillery in 1896 & it opened in 1898. It takes it's name from the small Town on which it sits at the edge of, Aberfeldy.
The site chosen for it's fine source of water & it's proximity to the local Perth Railway line.
The Distillery is an impressive late Victorian Building, housing four Stills, two low Wines & two Spirit, with a capacity of 1,800,000 Litres. Tommy Dewar was reputedly the third person in Great Britain to buy a Motor Car, he was also responsible in 1892 for going on a 2 year World Tour, to promote the Dewar's White Label Brand. He returned with 32 new agents, in 26 different Countries. The cost of the trip had been $28,000.00 – more than $500,000.00 in today's money !!