ABERLOUR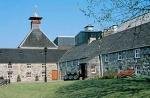 speyside
Pronounced : aber-lowr.
Built : 1879.
Current Owner : Pernod Ricard.
Prod Cap : 3,200,000 Litres.
The original Aberlour distillery was built by James Gordon and Peter Weir in 1826. James Fleming founded a new distillery in 1879, after a large fire destroyed most of the original building. This was considered to be the start of the distillery proper.
It was built on the site of the St Drostan's well, providing the distillery with a rich source of soft water. The distillery was largely rebuilt again in 1898, after another fire, which devastated most of the buildings and stock. Many of the original features of the distillery are still there even thought much of it has changed through technological advances and modernisation.